I've been reading Ibsey's book, recently. (And if you see this post, Ibsey, I've sent you an email via this forum which may have gone into your spam folder, even though it is definitely not spam. Look for it.)
Inspired by the sheer massive amount of time and effort that went into the production of that book, I am finally going to do what I first thought of doing
eight years ago
when "the old site" was still active, and had a massive hole in it that I always thought needed plugging.
I am going to write the AGS profile.
The target is to release it at (or just before) the French Grand Prix weekend. Since this race returned to the calendar it's been back at Paul Ricard - just a stone's throw from Gonfaron - and, in case anyone had forgotten, 2019 is the 20th anniversary of "the old site", where many of the driver and team profiles had been written in its first year. I thought now was as good a time as any.
Those of you who know me in any way will know I don't like to do anything by halves. Some will remember the five F1RMGP seasons that should still be lurking in the archive section of the Perry McCarthy forum. As the series went on, race reports (for something that nobody could actually watch!) grew longer and longer... until Formula E arrived and stole my thunder (though that did them lead to the "GPR Goes To Battersea" podcast, which I made sure was similarly thorough). If there is any nit-picking detail I can find, at all, I intend to include it. I don't think it will be as enormous as the profiles of Johnny Claes, Lucas di Grassi or Sébastien Buemi, but if there is an unofficial word limit then I intend to pay about as much attention to it as I would to a conference on fax machine sales.
Of course, if there's anyone else who wants to tell me any details I might otherwise have forgotten, or who would volunteer to proof-read the final version (and not marmalise it the way Ferrari did to the career of AGS' first driver), stick your hand up, hit the "private message" button
and make sure it's in an email
, because the PM inbox on this site gets bunged up very quickly.
Marchons! Marchons!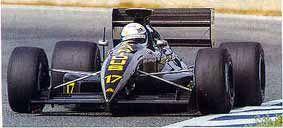 Last edited by
dinizintheoven
on 21 Mar 2019, 19:31, edited 1 time in total.
James Allen, on his favourite F1 engine of all time:
"...the Life W12, I can't describe the noise to you, but imagine filling your dustbin with nuts and bolts, and then throwing it down the stairs, it was something akin to that!"