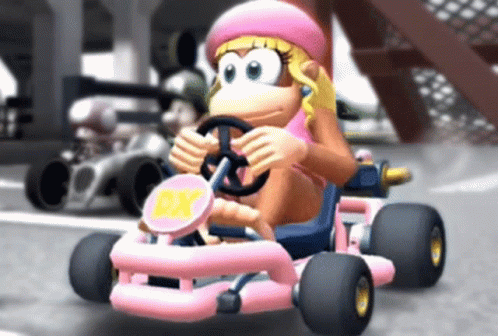 The new millennium arrives! Mario Kart fans around the world were treated to a belter of a season last year, as three teams and about five drivers all had decent shots at taking the title. After five years of BMW dominance, it was a fantastic return to form for the likes of Luigi Mario and Para Troopa, while Birdetta Birdo, Daisy von Sarasaland, and Dixie Kong all had their first real shots at taking the championship. In the end it was Dixie Kong who did it, bringing the first drivers' title for any Kong, and the first constructors' championship for Mitsuyoshi Buntai in their eight-year stint in the series.
2000, like any other year, is up in the air. Just how good will the teams be? While Dixie Kong herself has been brilliant, BMW just got better and better and better as last year went on, and they surely look like favourites to challenge for another title in the new year. But without Wario Jumpman (who takes a sabbatical this year), what will the team do to regain their dominant form?
News
With Wario Jumpman retiring, the driver market is unstable as all hell. Diddy Kong Racing has done a good job at injuring or murdering two of the Marioverse's most talented drivers last year alone. As the driver pool shrinks, who will the teams turn to for this year's championship hopes?
On the other side of the world, there appears to be an impending boycott of the Diddy Kong Racing series as we approach the new year. It is now standard practice to organise the opening race on the condemned Donut Plains circuit, but can the two-time DKR champion Mario Mario convince his naysayers to turn up? As even the eponymous series organiser is now paralysed for the remainder of his life, the series looks like it will have to change or die.
Pauline Williams, who herself has raced in DKR for three consecutive seasons, announced plans very late last year to participate with her machinery in the 2000 Mario Kart season, showing that a breakaway from Donkey Kong Country is really happening. While the details are sketchy regarding the entry and the kart, we at least know that the team will be called Williams. With 16 karts on the grid, it is going to be more competitive than ever to get one of those four points-paying positions.
The Entry List
Mitsuyoshi Buntai
#1 Dixie Kong
#2 Birdetta Birdo (Rs 1-4, 9-16)
#2 Pipsy Astromouse (Rs 5-8)
Scuderia Sarasaland Squadron Luigier Team (a.k.a. SSL)
#3 Luigi Mario
#4 Daisy von Sarasaland
Bowser Motor Works (a.k.a. BMW)
#5 Para Troopa
#6 Toad Toadstool
Koopra Sport
#7 Kokkoro Toudou
#8 Larry Koopa
Peachific
#9 Peach Toadstool
#10 Candy Kong (Rs 1-4)
#10 Wendy O. Koopa (Rs 5-8)
Scuderia Barile Ardente (a.k.a. SBA)
#11 Funky Kong
#12 Pipsy Astromouse (Rs 1-4, 9-16)
#12 Birdetta Birdo (Rs 5-8)
Kameklaren
#14 King Bobomb
#15 Wa Luigi
Williams [
entry pending
]
#16 Conker T. Squirrel
#17 Jimmie Mouser
The Calendar
Mushroom Cup: Luigi Raceway; Moo Moo Farm; Koopa Troopa Beach; Kalimari Desert
Flower Cup: Toad's Turnpike; Frappe Snowland; Choco Mountain; Mario Raceway
Star Cup: Wario Stadium; Sherbet Land; Royal Raceway; Bowser's Castle
Special Cup: DK's Jungle Parkway; Yoshi Valley; Banshee Boardwalk; Rainbow Road
The calendar remains the same as it did last year, and will continue as such for the coming years.
All official updates etc will be on this spreadsheet here.
And as always, anyone reading this who wants to sign up, simply post here or message in the Discord and we'll get you a character.