Motorsport Manager? Where did you see that?

Anyway,
Northern Irishman
Connor O'Lynch
will make his F1 debut for Jordan in 2005 alongside Tiago Monteiro, after testing for them last year, and winning the 2004 F3000 championship.
2005 will be run with F1 05, using the individual Race Weekend mode, taking the place of Karthikeyan.
Very poetic considering what GPR just cooked up.
I qualified a reasonable 15th in my debut, ahead of Tiago, Webber, the Minardis, and Trulli who failed to set a time in Q2 and was forced to the back of the grid thanks to 2005's weird qualifying format.
Tiago retired on lap 1 with an engine failure, while I was up in P7 by sector 2. On lap 5, I passed Sato for P6. I nearly passed Raikkonen for 5th on lap 8, but spun back down to 8th. I was back in 6th by lap 12. With Raikkonen pitting I was in 5th on lap 13. With Alonso pitting, I took P4 on lap 15. Fisichella pitted on lap 19 and I took 3rd. I took my first stop on lap 23, exiting in 6th. With other frontrunners pitting in, I was back in P4 on lap 30 and up to P2 on lap 35. I had my second stop on lap 39, emerging 3rd just ahead of Alonso.
Fisichella and I locked horns on lap 45, ending up with me off the track and Fisi and Rubens overtaking me. I was in 5th now. With Barrichello making his last stop, I clawed back 4th. And when Fisichella pitted a lap later, I was back in third. Nick Heidfeld's engine conked out on lap 51. Another sbinalla at the start of S3 took me down to P4, but I held that position until the end.
ROTR: BMW Williams - a weekend to forget for them, even when considering their form from last year.
IIDOTR: Connor O'Lynch - despite some mistakes costing him some positions, a phenomenal debut regardless.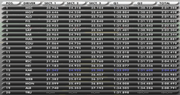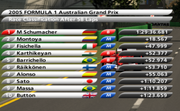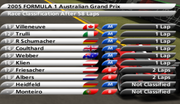 Standings:
https://docs.google.com/spreadsheets/d/ ... sp=sharing